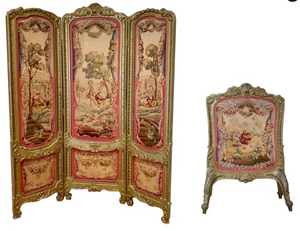 Antique 19th Century Louis XV Regency Set of Gilded Tapestry Screens
Size:
Large Three Panel Screen:
Width - by panel: 20 inches/ 26.5 inches/ 20 inches
Height - by panel: 79 inches/ 82 inches/ 79 inches

The Fire Screen measures:
Width: 27 inches
Height: 46 inches
Age: 1800-1899
Color: Gold and Rose
Material: Gilded Wood, Silk, Wool
Origin: France
Condition: Very good
One of a kind.
Very good vintage condition, any existing wear consistent with age and use. 
The photos were taken inside with studio lighting. The colors of our carpets and tapestries may look slightly different depending on the lighting in your home or the device you are using.