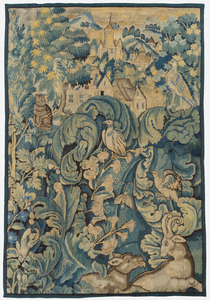 Hand-Woven Antique 16th Century Feuilles de Choux Verdure Tapestry
Size: 6.7 x 4.4 ft
Age: 1500-1599
Color: Green
Material: Wool
Condition: Excellent
Origin: France
One of a Kind.
Tapestry #329
Provenance: Doyle Auction House, New York, NY
Notes: 
A Rare 16th Century French Verdure Feuilles de Choux Tapestry. Feuilles de Choux (cabbage leaves in French) tapestries include large leaves in an overall, often wild motif with animals of the hunt or exotic creatures admired for their beauty and rarity. These types of animals had had a symbolic significance in the Middle Ages, but by the 16th century, designers are said to have chosen these animals as creations of their imagination.
Very good vintage condition, any existing wear consistent with age and use. 
The photos were taken inside with studio lighting. The colors of our carpets and tapestries may look slightly different depending on the lighting in your home or the device you are using.